The moment you mention "fat" and anything positive in the same sentence you get a response that's meant to put you in your place. It will usually go something like, "I don't believe in encouraging unhealthy behaviour" or "I'm all for self-acceptance, but…".
I certainly do understand this sentiment. I think social stigma can be a powerful way to discourage bad behaviour. Just look at MADD's entire campaign against drunk driving, for example.
However, I do think there is an unnecessarily strong reaction against Fat Positivity. Below I've outlined 3 reasons why I think that reaction is unfair.
1) We overlook healthy individuals with large bodies because they don't fit our cultural beauty standards 
The number one criticism of fat acceptance is that it encourages unhealthy behaviour. However, there are more and more examples that prove body size doesn't always dictate health. Olympic hammer-thrower Amanda Bingson encountered this type of assumption when she was kicked off her high school volleyball team for not losing weight. Years later and she has been able to prove that a large body is just as capable of amazing things as a small body. It's been encouraging to see her featured in this year's ESPN Body Issue, the magazine's "annual celebration of athletes' amazing bodies".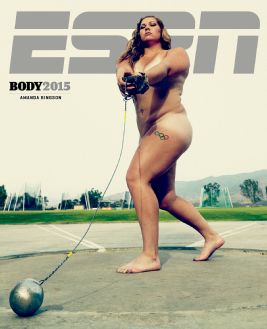 Another large and healthy individual who has come to my attention is yogi Jessamyn Stanley. I try (emphasis on try) to practice yoga every week, and yoga is, for me, one of the few physical activities I'm actually kind of okay at. That's why I was stunned to see Stanley doing moves I am still far away from accomplishing. It's clear to me that Stanley has the kind of core strength that most of the slender yogis in my classes still haven't managed to build.
Examples like Bingson and Stanley aren't meant to prove that all large people are healthy. Instead, they offer a great reminder that size doesn't necessarily dictate health. While large individuals are sometimes much more healthy than they look, some slim individuals can be much less healthy than they appear. Continue reading →