There were just so many angles from which to approach American Sniper. One of them is, of course, within the context of the Oscars, especially when set in stark contrast with the amount of nominations Selma received [or didn't receive, as it were]. Another is as the whitewashing of both a man who took great joy in taking lives and the war he fought in. While both are important, the latter more so in my opinion, I will actually be focusing on neither.
As I so often do on this blog, I will instead be writing on and cataloguing a number of reactions to the film [which I haven't personally seen], some of which you can see below-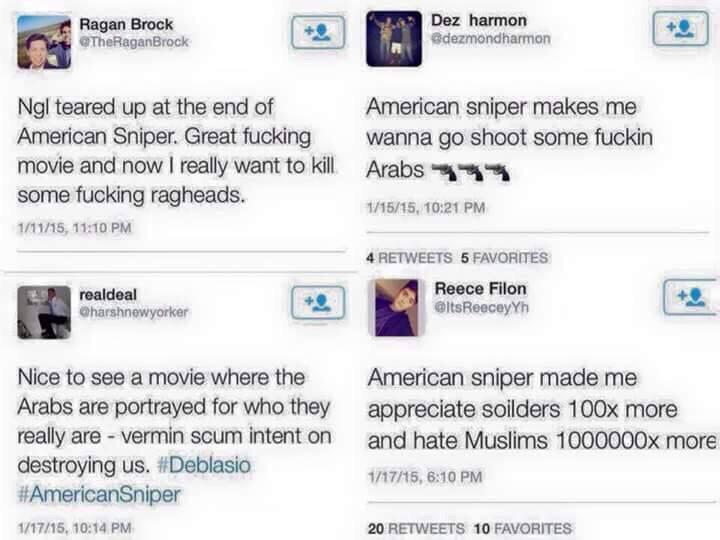 If those tweets weren't enough to weaken your faith in humanity you should also know that they were shared by The American-Arab Anti-Discrimination Committee (ADC) with the news that they are "working with law enforcement to address violent threats made against #ArabAmericans following #AmericanSniper". Of course, it's not just your average Arab or Muslim person that was targeted-
Rania Khalek, who wrote the first article I linked to, has found herself the target of racist, sexist, and generally bigoted verbal abuse coming from several corners of the internet since it went online. She, alongside many others who likewise criticized the film, have been called traitors to their country, as well as many other terms I will refrain from reiterating here.
As I skimmed through this hateful garbage I had flashbacks of eerily similar tweets that accompanied the 2012 remake of Red Dawn–
-which honestly, still to this day, elicit a visceral reaction in me. I can only imagine how many Arab Americans feel right now in the wake of this film's release, especially since it's based on real-life events and not some Hollywood fever dream. The clear difference is that in the former the Wolverines were a bunch of high schoolers turned guerrilla freedom fighters, and in the latter the protagonist and his ilk are United States Marines.
While I was not connected to anyone via social media who subscribed to the kind of sickening blind hatred shared above, I did have at least one friend who responded to Rania's article after I shared it. Their comment is as follows:
While I agree with her that the tweets chosen were certainly made by extremists the line I want to pull and focus on is this:
"Chris Kyle WAS a hero and saved many lives."
It's an assertion I read in a few other places on Facebook, and while it places a great deal of distance between itself and the bigots it stays steadfast in its belief that Kyle was a good man, and more than a good man, a hero. I don't want to take the time to rehash all of the things he said in his very own memoir, but at the very, very least we should be able to objectively state that he was by no means an angel. Yet for some reason I have found a multitude who refuse to mark him as anything less than some sort of champion of their own personal freedoms.
The one instance, that has come across my radar, of a person who liked the film and didn't love it is Seth Rogen [who I think is a pretty cool guy]. He received his own fair share of attention on Twitter after he quipped that-
As context, for those who haven't seen the Tarantino flick:
Given the intense amount of very unwanted attention the tweet garnered him, which resulted in him clarifying his statement the following day:
And then once more, this statement going up yesterday:
I truly hope this clears things up: http://t.co/1lLM4cA5je—
Seth Rogen (@Sethrogen) January 23, 2015
It should go without saying that even giving the appearance of comparing a movie about the American armed forces to Nazi propaganda is invitation for those with vastly stronger opinions to come at you. That being said, it appears to be another example that to a number of people this isn't a grey issue.
To be upfront, I don't think Chris Kyle was a good guy, and at the very least was a person who adapted a little too enthusiastically to the position he was in. That's
closer to black on this monochromatic spectrum we're talking about, but I'm at least willing to concede that he believed every shot he took was saving an innumerable amount of American lives even as it ended an Iraqi one. In fact, in a number of instances I'm sure they did. Sitting here in the dark grey, where I am, it just so happens that I'm blinded by the white, as it were.
As with so many other things, American Sniper has created an us-or-them dichotomy. Either you're with us and you believe Chris Kyle was a guardian of the United States, unapproachable in his actions, or you hate America. To put it more plainly, either Chris Kyle was a hero or he was a villain. It's like kids playing on a playground, there is no role for the misunderstood, or for the good guy wrestling with their inner demons.
Maybe with American Sniper and Chris Kyle, like so many other things, we need to meet somewhere in the middle. Especially if that somewhere in the middle lies a little closer to the negative end of things.
---
ADDITIONAL NOTE: Something I did not focus on was this assertion that just because people were not somewhere or directly involved in something they cannot pass judgement. This hews very closely to a post I want to write about criticism in general, and will be discussed then.