Before we really delve into this review, can we please pause for a moment and gush over its cover? Jake Wyatt returns after providing art duties for issues 6 and 7 last year, reminding us that if he wasn't doing his own thing with his creator-owned Necropolis we would fully welcome him back with open arms. No offence to Alphona, of course, but Wyatt's about as great a fill-in artist as you can get for whenever the Canadian needs to take a break.
Which of course isn't to deride current artist Takeshi Miyazawa, because he is likewise killing it. We'll get there when we get there, though, because this latest arc, "Crushed" is a ride.
Yes, the very handsome Kamran is very much still a factor, and yes, he is also an Inhuman. Just in case it wasn't a big enough deal that he is also a nerdy Pakistani-American it just so happens that he too was given powers by the Terrigen Mist that gave Kamala the ability to embiggen, etc. How his story intersects with our heroine's and proceeds is fairly straightforward, so I thought I would draw your attention to two parts of the narrative that can be told given who Ms. Marvel is, specifically.
The first is that this issue focuses on some of the fallout of Kamala's throwdown with Kaboom. As you can see in that panel on the left her oversized fists ended up doing a significant bit of damage, and she opens up to Kamran later telling him that: "I've never hit somebody that hard before. Not hard enough to really hurt them." She's a teenage girl with the ability to deliver a punch with the force of a battering ram, but that doesn't mean that she enjoys hurting people. It's an observation that Noah Berlatsky made months before Issue #14 in his article "What 'Ms. Marvel' Gets Right About Comic Book Violence".
In it he notes the oft-made connection between violence and "maturity", wherein realism and bruised knuckles and bloody noses go hand in hand. While her story is being told in a medium that is predominantly preoccupied with over the top melees this Ms. Marvel is concerned with causing anyone physical harm. In spite of the fact that this other Inhuman was attacking innocents she "[felt] pretty gross about it."
I will readily admit that the other bit of narrative I want to focus on has been told a thousand times before, but probably never with it being spelled out so explicitly, and from one man to another. In fact, out of 20 pages of story exactly 1/10 are devoted to Aamir telling Bruno exactly why things will never work out between him and Kamala.
What Kamala's older brother tells her classmate is brutally honest, and he's able to bring to light what her parents would never so readily offer up. The fact remains that Bruno is a "gora", a White person, and as such was never going to be considered a suitable match by Mr. and Mrs. Khan. There's no actual difference in values, it has nothing to do with this American boy doing everything he can to pull this Pakistani girl out from under her parents' tyrannical rule; it's just that when the aim is homogeneity this kid was never an option. G. Willow Wilson lays out pretty plainly a lot of what is felt and thought and rarely ever spoken aloud, and it remains to be seen if anything romantic will ever take place between Bruno and Kamala, especially because . . .
Kamran is bad news.
Which isn't the biggest surprise, really. Ever since his introduction he's been moving fast, from someone with similar passions to another Inhuman to a boy taking her out on nighttime rooftop excursions to a person trying to get her to skip class to, well, a straight-up kidnapper. It turns out that not only does Kamran not disagree with Kaboom's assertion that they're a higher tier of being, they're straight-up allies. The last page reveals that the big bad behind all of this is a pink, horned guy named Lineage.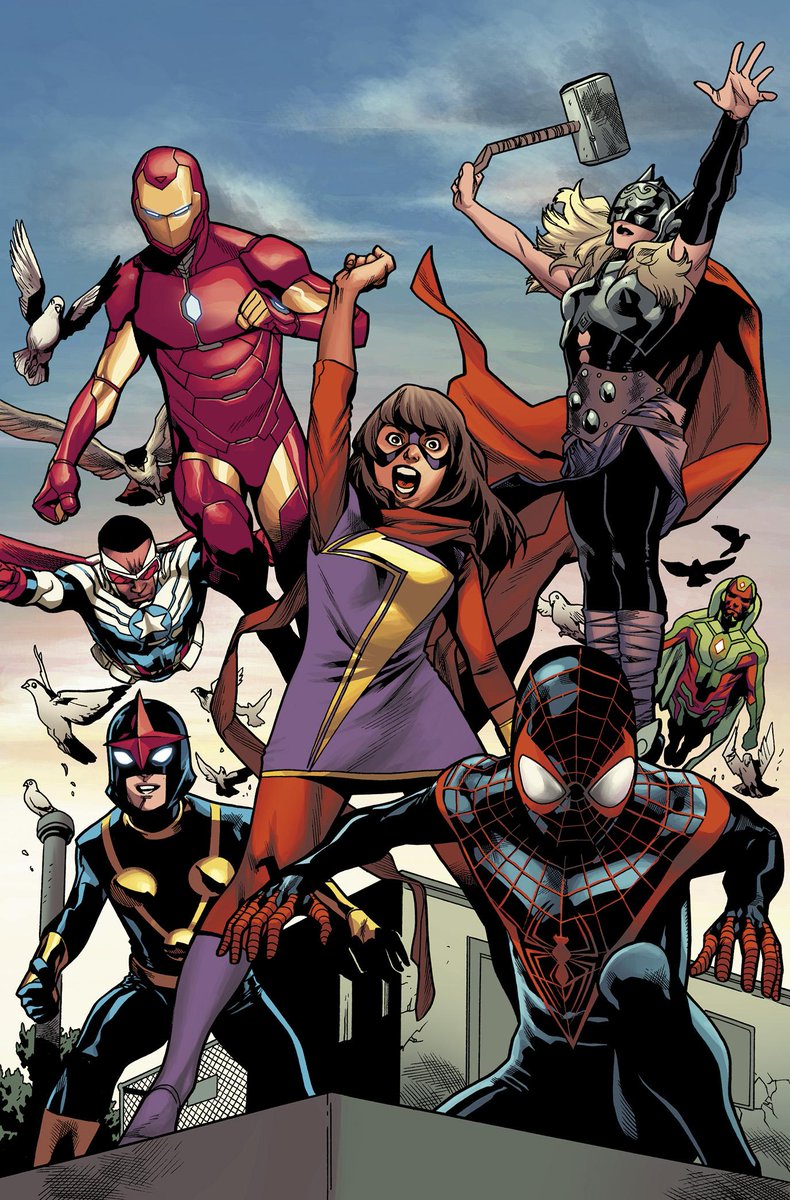 Now he should be no stranger to anyone reading the Inhuman title, but as I've only skimmed a few issues here and there I cannot really help you. At the very least his presence is a sign that Kamala can't stick to her own little world forever; she is a member of Marvel's latest race of superpowered people. Not only that, but she's also incredibly popular in real life, a fact that the publisher has not ignored given her presence on the All-New All-Different Avengers roster [on the right], the first issue of which drops on Free Comic Book Day [May 2nd]. Kamala's universe will only get bigger, and it's my hope that we'll continue to get stories about a superheroine who takes no joy in putting fists in faces, whose family background directs her personal life in a very real way.
Fights, Panelling, Action!: Miyazawa makes great use of action lines here, which communicate movement and add to the dynamism of the fight scene. Once again he draws your eye across each panel using the characters, with the panel on the left encouraging us to follow Kamala's body from the bottom left-hand corner to where it ends in the Inhuman guard's midsection in the upper right. Props to Ian Herring on colours as well, as washing everything else out keeps the focus solely on the combatants.
Ms. Marvel #14
Written by G. Willow Wilson
Art by Takeshi Miyazawa
Colours by Ian Herring
Letters by Joe Caramagna
Edited by Sana Amanat
Marvel Comics